Boiler Repair & Service Specialists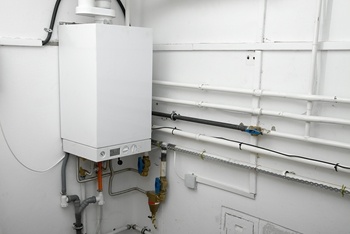 If you're using a boiler as the main heat source for your home, it's necessary to have regular maintenance and repairs performed by a professional. Otherwise, the efficiency of your boiler will decline—which means your heating costs will be higher—plus, your system will need more expensive boiler repairs in the future, and the lifespan of your boiler will be much shorter. At Cooper's Inc., our heating contractors in Topeka can make sure that your boiler is consistently perform at its best, saving you money, and preventing frustrating problems.
Boiler Maintenance
A majority of modern homes use different heating units, but boilers are very efficient and highly cost effective. As long as they're kept in good repair and are regularly maintained, boilers can last for several years and do an excellent job heating your home. To guarantee the longest lifespan and the highest efficiency for your boiler, our Topeka boiler repair specialists recommend a yearly tune­up and inspection, preferably sometime just before the heating season starts.
Types of Boilers Used in Topeka
There are two main types of boilers: hot water boilers and steam boilers.
Steam boilers are the more complicated of the two, and they're much more rare. Most steam boilers have been converted to hot water boilers. Steam boilers heat water until it evaporates, then send the steam up through pipes and out to radiators, which are then able to produce heat. When the steam cools enough to become a liquid again, it's sent back to the boiler, where the process starts over.
Hot water boilers work similarly, but heat the water to about 160° F before sending it to your boilers, instead of waiting for it to evaporate. This makes for a quicker, more efficient heating process.
Our heating services technicians have experience and expertise working with both types and all brands of boilers. All of our plumbers and HVAC contractors are licensed, certified, and professionally trained, so we can guarantee you excellent service at every job. And if you have a steam boiler that you'd like to convert to a hot water boiler, we can take care of that as well.
For quality boiler repairs in the Topeka area, please call Cooper's Inc at 785-267-4100 or complete our online request form.
Recent Articles
When Should You Replace Your Water Heater? - Even if you're keeping up with the repairs and maintenance, your water heater will need to be replaced eventually. Being left without hot water for any period of time can be a huge problem, so it's important that if your water is going to need to be replaced, you know about it beforehand … Read More
Prevent Plumbing Problems With These Helpful Tips - At Cooper's, Inc., our plumbers can assist you with any plumbing repairs that you may need, and we also offer a number of maintenance services to help you keep those problems from developing. Our goal is to help you keep every part of your plumbing system in great condition at all times, so we've put together a few tips to help prevent some common plumbing problems … Read More