About Cooper's Inc, Your Trusted Topeka Plumbing, Heating & Air Conditioning Company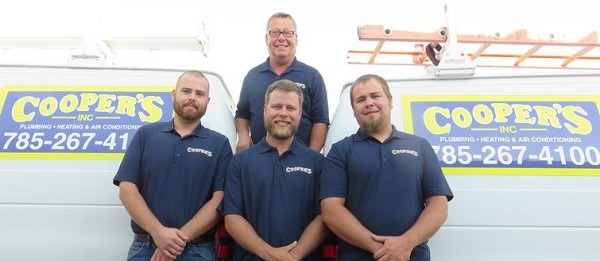 At Cooper's Inc., we've been providing high quality plumbing, heating, and air conditioning services to homeowners in Topeka and the surrounding areas of Kansas since 1986. Over the years, we've developed a great reputation as a local Topeka plumbing, heating and air conditioning company by consistently providing our clients with the highest quality workmanship possible at every job that we perform. No matter how large or small the job that you need done is, you can always rely on us for quality work and excellent service.
All of our plumbers and heating & air conditioning contractors are licensed, trained, and extensively experienced. Whether you need heating repairs and an air conditioning tune-up, or plumbing repairs, installations, or sewer and drain cleaning services, our team of qualified professionals will always be ready and eager to tackle the job. We know how important these parts of your home are to your daily life, so we'll always strive to provide excellent work, and we'll guarantee your satisfaction with all of the work that we perform.
A Family-Owned Plumbing, Heating & Air Conditioning Company in Topeka
Cooper's Inc. has been a family owned plumbing, heating & air conditioning company in Topeka for over 25 years. Many of our clients have been loyal to Greg Cooper since he started working out of a small shed behind a house back in 1984! He has been hired to do work in Kansas, Missouri and Kauai, Hawaii. Since opening in 1986, we've treated every customer like they were a part of our family. Other companies may offer similar services, but our services come with the satisfaction of knowing it will be done right and at a fair price.
Cooper's Inc. is a knowledgeable, professional, friendly and trustworthy company that you can rely on for great customer service and solutions to all the plumbing, heating and air conditioning needs your home or business may have.
Call us today to schedule your appointment for service with one of our talented professionals, and we'll be looking forward to assisting you and welcoming you to be part of the family!
Our Topeka Plumbing, Heating & Air Conditioning Company's Services
Recent Articles
When Should You Replace Your Water Heater? - Even if you're keeping up with the repairs and maintenance, your water heater will need to be replaced eventually. Being left without hot water for any period of time can be a huge problem, so it's important that if your water is going to need to be replaced, you know about it beforehand … Read More
Prevent Plumbing Problems With These Helpful Tips - At Cooper's, Inc., our plumbers can assist you with any plumbing repairs that you may need, and we also offer a number of maintenance services to help you keep those problems from developing. Our goal is to help you keep every part of your plumbing system in great condition at all times, so we've put together a few tips to help prevent some common plumbing problems … Read More
If you would like to know more about Cooper's Inc., your local Topeka plumbing, heating and air conditioning company, please call 785-267-4100 or complete our online request form.