Thorough & Reliable Sewer Inspections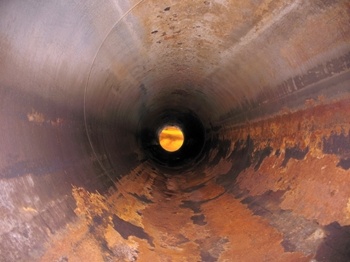 The plumbers at Cooper's Inc. use state-of-the-art technology and the most advanced techniques in order to perform sewer inspections in the Topeka area that can accurately identify problems with our clients' plumbing pipes. Our plumbers will be able to accurately pinpoint the precise cause of any problems with your pipes using our sewer pipe video inspection equipment. After the inspection is complete, we'll be able to help you determine the best course of action for sewer repairs.
If you've noticed that your plumbing system is not working as smoothly as it could, it may be the result of these or other problems in your pipes;
Tree root intrusion
Debris build-ups causing blockage
Craks or breaks in the sewer line causing sewage to seep into your yard
Our team of expert plumbing services professionals will be able to identify these problems and provide you with the best solutions possible.
How Our Sewer Inspections Work
Our sewer inspections utilize a remote-controlled camera which is fed through the clean-out that's connected to your sewer line. The camera lets us inspect the interior of the length of the pipe visually, all the way from your home to the roadway. The video feed is live and allows to locate any small problems that have developed within the pipes without the need to excavate to inspect.
Our inspections take all of the guesswork out of the sewer pipe repair process. Our plumbers have the equipment and experience to ensure that your drains and pipes are in the best condition possible before our work is complete.
Video Inspections Allow Our Topeka Plumbers To:
Locate:
Tree Root Instruction
Buried Backflow Devices
Collapsed Pipes
Blockage
Sewer Taps
Off-Grade Pipes
Foreign Objects in Pipe
Leaking Joints
Corrosion
Cracked Pipes
Buried Clean-Outs
Inspect:
Drain Lines
Septic Tank Lines
Floor Drains
HVAC Ducts
Service Conduits
Yard Drains
Utility Ducts
Vent Stacks
Water Lines
Sewer Lines
Floor Drains
And More
Our video camera pipe inspections allow us to identify any problems with any parts of your plumbing system, and we'll guarantee your satisfaction with our work.
For professional sewer inspections in Topeka, please call Cooper's Inc at 785-267-4100 or complete our online request form.
Recent Articles
When Should You Replace Your Water Heater? - Even if you're keeping up with the repairs and maintenance, your water heater will need to be replaced eventually. Being left without hot water for any period of time can be a huge problem, so it's important that if your water is going to need to be replaced, you know about it beforehand … Read More
Prevent Plumbing Problems With These Helpful Tips - At Cooper's, Inc., our plumbers can assist you with any plumbing repairs that you may need, and we also offer a number of maintenance services to help you keep those problems from developing. Our goal is to help you keep every part of your plumbing system in great condition at all times, so we've put together a few tips to help prevent some common plumbing problems … Read More