Local Heating & Air Conditioning Expert and Plumber in Topeka, KS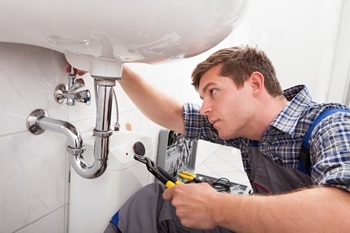 Your plumbing system plays a huge role in the comfort, convenience, and sanitation of your home, so when you encounter any problems with it, you need prompt and professional repairs. At Cooper's Inc., we specialize in plumbing repairs in Topeka, and we can help you ensure that your home's plumbing system is always in excellent condition. Our plumbers in Topeka, KS have extensive experience, and we'll be able to ensure that every part of your plumbing system is totally functional.
No matter how intensive or basic the repairs you need are, you can always depend on our Topeka plumbers for high quality work. Call us today to schedule your appointment for service, and we'll be looking forward to assisting you.
Water Heaters in Topeka
Keeping your water heater in great shape is an extremely important part of keeping your home a comfortable place. You use your water heater every day for a wide variety of different tasks and activities, and you need to know that you'll always be able to rely on it. When you encounter any problems with your home's water heater, our plumbers can provide you with prompt and professional water heater and plumbing repairs in Topeka, KS.
We can also provide you with water heater maintenance services to help prevent problems from developing and to keep the unit running as efficiently as possible.
Air Conditioning Services in Topeka
During the summer months, you need to know that your air conditioning system will be able to keep your home cool and comfortable, and that you won't be overpaying for the energy required to do so. Our Topeka air conditioning contractors recommend that you have an air conditioning tune-up performed once each year, preferably in the spring, before you're cooling your home on a regular basis.
Topeka Heating Professionals
When you have any problems with your heating system, you need them taken care of as soon as possible. During the coldest parts of the year, problems with your heating system won't just make your home uncomfortable—they can also make it unsafe and unhealthy. Our professional Topeka heating contractors can provide you with high quality heating repairs whenever you need them.
Recent Articles
When Should You Replace Your Water Heater? - Even if you're keeping up with the repairs and maintenance, your water heater will need to be replaced eventually. Being left without hot water for any period of time can be a huge problem, so it's important that if your water is going to need to be replaced, you know about it beforehand … Read More
Prevent Plumbing Problems With These Helpful Tips - At Cooper's, Inc., our plumbers can assist you with any plumbing repairs that you may need, and we also offer a number of maintenance services to help you keep those problems from developing. Our goal is to help you keep every part of your plumbing system in great condition at all times, so we've put together a few tips to help prevent some common plumbing problems … Read More
If you are looking for a professional air conditioning and heating contractor or plumber in Topeka, KS then please call 785-267-4100 or complete our online request form.