Repairs & Installation of Hot Water Heaters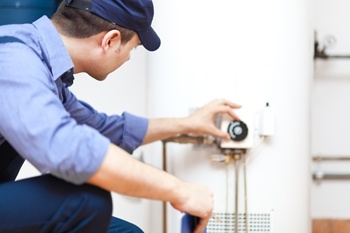 Water heaters are one of the most important parts of the comfort that your home provides to you and your family. When you have any problems with your home's water heater, it can turn your home into a place that's uncomfortable and unsanitary. You'll need to have repairs performed as soon as possible, and you need to know that those repairs will be totally reliable.
At Cooper's Inc., our professional plumbers in Topeka can provide you with water heater repairs, maintenance services, replacements, or installations. No matter how large or small the water heater services you need are, our plumbers will be ready and eager to tackle the job. We'll do whatever it takes to help you keep your water heater as effective and efficient as possible at all times.
Water Heater Maintenance
Keeping your water heater in great shape is a major priority, and waiting until the system starts to malfunction before you have it serviced only ensures that the problems will be more serious and costly to repair. Our professional plumbers recommend that you have water heater tune-ups performed regularly. Our water heater maintenance services will help reduce the frequency of necessary repairs and extend your water heater's lifespan.
Water Heater Replacements
No matter how frequently your water heater is maintained, it will eventually need to be replaced. When it's time to replace your water heater, our plumbers will be able to handle every part of the job. We can help you determine which new water heater would be best for your home, and we can perform a high quality installation. We'll be able to properly dispose of your older water heater and guarantee that your new unit is as efficient and effective as possible.
Water Heater Repairs for Topeka Area Homes & Businesses
When you need to have your water repaired, our plumbers will be able to accurately diagnose the problem and perform thorough repairs. We'll do whatever it takes to get your water heater back into excellent condition, and we'll guarantee your complete satisfaction with all of our plumbing services.
For quality water heaters in Topeka, please call Cooper's Inc at 785-267-4100 or complete our online request form.
Recent Articles
When Should You Replace Your Water Heater? - Even if you're keeping up with the repairs and maintenance, your water heater will need to be replaced eventually. Being left without hot water for any period of time can be a huge problem, so it's important that if your water is going to need to be replaced, you know about it beforehand … Read More
Prevent Plumbing Problems With These Helpful Tips - At Cooper's, Inc., our plumbers can assist you with any plumbing repairs that you may need, and we also offer a number of maintenance services to help you keep those problems from developing. Our goal is to help you keep every part of your plumbing system in great condition at all times, so we've put together a few tips to help prevent some common plumbing problems … Read More