Excavation for Sewer Pipe Repairs & Replacements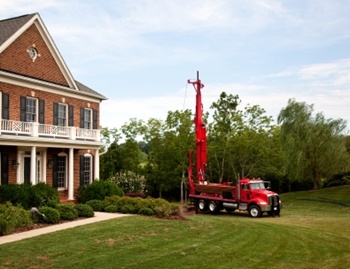 Most of the time, when you have a sewer line problem, your options are to either repair or replace the line. At Cooper's Inc., our professional plumbers in Topeka will be able to accurately diagnose any problems that you have with your sewer line, then help you determine the best way to repair the lines. Sometimes, the repairs can be performed with trenchless methods, which require no excavation; however, sometimes excavation is unavoidable when it comes to sewer pipe repairs here in the Topeka area.
If you need to have excavation services performed in association with sewer pipe replacements and repairs, our expert plumbers will be able to handle every part of the job. We'll do whatever it takes to get the work done as we'll quickly as possible, and we'll always minimize the amount of excavation that needs to occur. We'll never perform any excavation unless it's the only method that will fix your sewer problems, and we'll always guarantee your satisfaction with our plumbing services.
Common Reasons to Excavate in Topeka
Excavation isn't something that many homeowners want to deal with, but sometimes it's the only way that you can properly repair plumbing problems. Here are a few common repairs that require excavations:
Repairing negative yard grading to prevent leaks in basements.
Installing a sump pump with piping to the street.
Repairing and/or replacing water or sewer lines.
Repairing problems with water main or sprinkler systems.
Installing exterior drain pipes to mitigate problems with downspouts that are too close to the home.
Our professionals will only perform excavation when it's the only way to guarantee that the repairs will be completed properly.
Our Excavation Process for Sewer Issues
Our plumbers will always follow the following process to handle any excavation job:
Troubleshoot the problem to find the best solution.
Monitor traffic conditions in the area and surrounding the excavation site.
Work around any underground utilities in order to guarantee minimal interference.
Shore a properly sized box.
Complete the final backfill.
We'll get the job done as quickly as possible, and we'll make sure that all of our repairs are totally thorough and accurate.
For sewer pipe replacement and repair related excavation services in Topeka, please call Cooper's Inc at 785-267-4100 or complete our online request form.
Recent Articles
When Should You Replace Your Water Heater? - Even if you're keeping up with the repairs and maintenance, your water heater will need to be replaced eventually. Being left without hot water for any period of time can be a huge problem, so it's important that if your water is going to need to be replaced, you know about it beforehand … Read More
Prevent Plumbing Problems With These Helpful Tips - At Cooper's, Inc., our plumbers can assist you with any plumbing repairs that you may need, and we also offer a number of maintenance services to help you keep those problems from developing. Our goal is to help you keep every part of your plumbing system in great condition at all times, so we've put together a few tips to help prevent some common plumbing problems … Read More