Are You Looking for the Best Plumber in Manhattan, KS?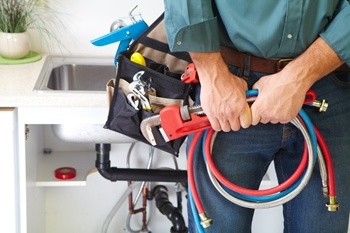 Hiring a plumber from Cooper's Inc. is one of the best decisions you can make for your Manhattan home's plumbing system because our plumbing company has years of experience serving Kansas residents. Our plumbers pride themselves on their high-quality workmanship, superb customer service, and technical expertise.
If you're looking for a plumber in the Manhattan area that you can trust to complete plumbing services such as sewer and drain cleaning, faucet and fixture replacement and repair, and sewer inspections, reach out to Cooper's Inc. to work with a qualified plumber and improve the condition of your home's plumbing system.
Professional Sewer and Drain Cleaning Services
For many Manhattan homeowners,
sewer and drain cleaning
is an essential service to request from an experienced plumber. Clearing your sewer lines and drains regularly will ensure good water flow throughout your plumbing system and will prevent complications with plumbing fixtures. Cooper's Inc. has all of the specialized tools and equipment required to remove even the toughest drain blockages. Our skilled professionals will determine which sewer and drain cleaning method to use based on the type of blockage and the severity of the clog.
Faucet Repairs & Plumbing Fixture Replacements for Your Manhattan Home
Plumbing fixtures offer convenience and continuous access to tap water in your Manhattan home. Because these plumbing fixtures and appliances get so much use, they tend to deteriorate rapidly if they aren't maintained properly and repaired correctly. When your faucets and plumbing fixtures require repairs or replacements, the best course of action is to schedule professional services from a trusted plumbing company like Cooper's Inc. You can come to our experienced team with a variety of plumbing problems, and we'll take a look at your toilet, sink, faucet, or water heater to diagnose complications and resolve them accordingly.
Recent Articles
When Should You Replace Your Water Heater? - Even if you're keeping up with the repairs and maintenance, your water heater will need to be replaced eventually. Being left without hot water for any period of time can be a huge problem, so it's important that if your water is going to need to be replaced, you know about it beforehand … Read More
Prevent Plumbing Problems With These Helpful Tips - At Cooper's, Inc., our plumbers can assist you with any plumbing repairs that you may need, and we also offer a number of maintenance services to help you keep those problems from developing. Our goal is to help you keep every part of your plumbing system in great condition at all times, so we've put together a few tips to help prevent some common plumbing problems … Read More
If you are looking for a professional air conditioning and heating contractor or plumber in Manhattan, KS, then please call 785-267-4100 or complete our online request form.